Discussion of Phylogenetic Relationships
The M. agassizii-, M. glaukopis- and M. magna-groups each contain species that are very closely related. The position of M. pyrodes is uncertain, but it may be closest to the M. agassizii-group and the M. glaukopis-group as they all share a funnel pocket (this feature, however, is probably a pleisiomorphy) and an eyelid photophore. The presence of integumental photophores over much of the ventral surfaces may indicate closer relationship to the M. agassizii-group, but the structure of the photophores has not been examined in M. pyrodes, and they superficially appear to be different from those of the M. agassizii-group. All the above species share long, slender clubs with sucker orifices dominated by pegs on the outer ring and not teeth on the inner ring. M. cordiformis and M. hjorti show many similarities (absence of funnel pocket and skin photophores, relatively short tentacular clubs with large suckers whose orifices are dominated by teeth on the inner rings, large fins, virtuallly identical skin tubercules in adults) and probably have a common ancestor. However these two species are very distinct and not nearly as similar to one another as are those species placed in the three species-groups. Species in the M. magna-group have uncertain relationships based on morphology. They are similar to M. cordiformis and M. hjorti in the absence of a funnel pocket but have tentacles more similar to the other species in the genus.
Molecular data are available for only a few species in the family. A phylogenetic analysis based on three genes from the four species for which molecular data are available (see tree below) and using a related species, Joubiniteuthis portieri, as the outgroup yielded a single tree (L= 515, CI= 89, RI= 90) (Young et al. submitted, see below). These limited data suggest that M. hjorti may be the closest relative of the M. magna-group.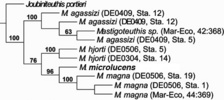 Figure. Phylogenetic analysis of the combined data (COI, 16S, 12S). Numbers in bold above branches indicate jackknife support values above 50%. Phylogenetic tree from Young, et al. (2008).
The Mastigoteuthidae includes many poorly known species, some described only from paralarvae. This situation and the disagreement in the classification of Salcedo-Vargas (see next section) with that presented here suggest that modifying the classification is premature and should wait until our knowledge has increased to the point where a full phylogenetic study can be made. We recognize, therefore, only the single genus Mastigoteuthis.
Details on the squid that provided the molecular data can be found here.
Latest updates
No one has provided updates yet.
Add a new comment