Discussion of Phylogenetic Relationships
Relationships after Binder, Matheny & Hibbett (unpublished data), Matheny et al. (2006), Binder et al. (2005), Bodensteiner et al. (2004), Larsson et al. (2004), Moncalvo et al. (2000, 2002), Singer (1986), and Kühner (1980).
Inclusive major clade names (e.g., plicaturopsidoid, hygrophoroid) are from Matheny et al. (2006) and are informal. The monophyly of these major clades receive significant support with Bayesian analyses with exception of the pluteoid clade.

Members of the earliest lineage of Agaricales, the plicaturopsidoid clade, are not very well known. At present the clade includes a diverse assemblage of taxa composed of resupinate, merulioid, club-like, coralloid, and gilled forms that are saprotrophic or pathogenic. No known EM lineages have yet been confirmed. Larsson et al. (2004) and Binder et al. (2005) identified additional resupinate, club-like, coralloid, and false truffle species at the base of the Agaricales, but these have yet to be integrated in a single cohesive analysis. Unpublished findings, together with results from Matheny et al. (2006), suggest many of these poorly known genera occupy early diverging lineages of Agaricales using a Bayesian method of inference. The diversity of fruitbody morphologies in the group, including species of Podoserpula, Plicaturopsis, Camarophyllopsis, Athelia pro parte, and the Clavariaceae, suggest these traits are highly plastic and unreliable gross phylogenetic markers. Separate 5.8S/25S and 25S only rRNA studies (Larsson et al. 2004; Dentinger & McLaughlin 2006), however, embed the Clavariaceae within derived groups of Agaricales with poor support using the maximum parsimony method. Parsimony analyses of combined protein-coding and ribosomal RNA data sets place the Clavariaceae at the base of the hygrophoroid clade but with weak support, or in a poorly supported grade with Plicaturopsis and allies before the split of the remaining Agaricales. Thus, the phylogenetic position of the Clavariaceae merits more attention.
The plicaturopsidoid clade appears to be the sister group to a crown group of Agaricales, which is dominated by gilled forms. Some of these genera and families of the crown group remain poorly supported by the parsimony bootstrap method despite a recent supermatrix phylogenetic analysis that included up to six nuclear gene regions for 250 taxa (Matheny et al. 2006). Nonetheless, at least five additional inclusive clades of mushrooms were recovered by Bayesian analyses.
Based on these latter results, the preponderance of EM formers appears to have evolved within the agaricoid and tricholomatoid clades, which are sister groups. Only two additional EM lineages are presently identified in the remaining Agaricales, the Amanitaceae and Hygrophorus s. str., but the nutritional mode of many other groups is poorly known (e.g., Cantharocybe, Clavariaceae s. str.). The agaricoid clade contains the dark-spored Agaricales, and all taxa appear to be characterized by multinucleate spores with an open-pore hilum. This group contains many truffle-like species that are EM formers and tend to sporulate below the surface of the ground (hypogeous), as well as the bird's nest fungi (Nidulariaceae), which are saprotrophs. The tricholomatoid clade includes lineages with white or pink spores and species with diverse ecologies including mycoparasites.
Of ecological interest, no EM taxa are known in the taxonomically diverse marasmioid clade, which is dominated by saprophtrophic white-spored taxa. Reduction of fruit bodies from gilled forms to cupulate forms (cyphelloid) appears to be a morphological tendency in this large inclusive lineage, in which some genera (e.g., Marasmius) are abundant in the tropics (Singer 1986). The hyrophoroid clade (e.g., Pterulaceae and Hygrophoraceae s. lat.) comprises predominantly white-spored taxa (rarely pink) that are also mainly saprotrophic. However, a few pathogens (Typhula spp.) and lichenized lineages (Dictyonema, Lichenomphalia) are placed in this clade, along with the aforementioned EM lineage Hygrophorus. The pluteoid clade is composed of pinkish brown and white-spored taxa of the families Pluteaceae, Macrocystidiaceae, and Limnoperdonaceae. Kühner (1980) presents morphological evidence that suggests a relationship between the Pluteaceae and Macrocystidiaceae, which we accept here and which is also supported by combined rRNA analyses (Matheny et al. 2006). Phylogenetic relationships between the pluteoid clade and families Amanitaceae and Pleurotaceae were not strongly supported by Bayesian or parsimony multigene analyses and require further investigation, hence, these families are shown in unresolved positions.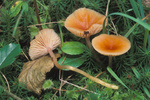 Gilled fruitbodies. Left: Gliophorus laetus (Hygrophoraceae s. lat.). © Brandon Matheny. Right: Fresh fruitbodies of Coprinus comatus (Agaricaceae). The gills of the specimens on the left are undergoing auto-digestion (deliquescence). © David LaPuma.
Agaricales incertae sedis
At present we have little or no phylogenetic information that sheds light on the relationship of at least 58 genera and clades of gilled, cyphelloid, and resupinate fungi (including four fossil genera) with affinities to the Agaricales. While single gene analyses have confirmed a relationship of many of these groups to the order (Moncalvo et al. 2002, Bodensteiner et al. 2004), their positions within the Agaricales are not clear based on single gene phylogenetic analyses. Future phylogenetic research of the Agaricales should focus taxon sampling among these genera.
Latest updates
No one has provided updates yet.
Add a new comment