Life History
The advanced paralarva of G. berryi at 8-10 mm ML has a spherical digestive gland rather than the spindle-shaped, obliquely-oriented digestive gland common to paralarvae of many (all?) other members of the genus.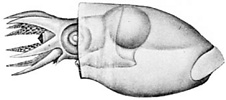 Figure. Side view of a paralarva of G. berryi, 10 mm ML. Drawing from Young (1972).
The size of the juvenile at which the various hooks first develop is often distinctive of the species.
Figure
. Chart of the size ranges over which hooks in juveniles of
G. berryi
first appear. Chart modified from Young (1972).
Latest updates
No one has provided updates yet.