Introduction
Species of Teuthowenia are moderate-sized (140-380 mm gladius length), midwater cranchiids. Each species occupies a separate region of the world's oceans where primary productivity is relatively high. Paralarvae occupy near-surface waters until they reach a relatively large size of 50-100 mm ML.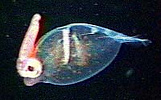 Figure. Lateral view of T. megalops in the "cockatoo" posture. Video still frame from a videotape recorded in-situ (Vecchione and Roper, 1991), JOHNSON SEA-LINK I submersible dive 2141; 4 August 1987; New England; depth = 789 m; temp. = 4.8° C; ML = 137 mm. An AVI format video clip of this animal is available at Cephalopods in Action
Brief diagnosis:
A taoniin ...
with three photophores on eyeball.
with anterior third of fins attaching to mantle.
Trusted