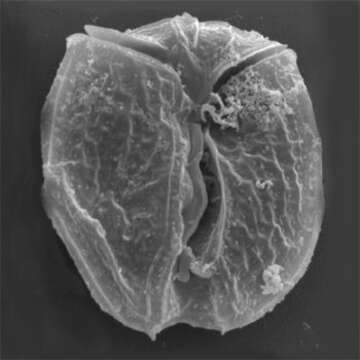 Description:
Amphidiniopsis swedmarki cells rounded square, epicone very narrow and flat, hypocone large, dorso-ventrally flattened. Length 38 - 50 microns, width 35 - 44 microns breadth (dorso-ventrally) approximately 17 microns .Thecal plates present: an apical pore, 4 apical plates, 1 anterior intercalary plate, 7 precingular plates, possibly 3 cingular plates, possibly 3 sulcal plates, 5 postcingular plates, 2 posterior plates. Cingulum slightly displaced. Thecal plates covered in irregular short ridges, giving it a dimpled effect, and scattered pores, approximately 0.3 microns diameter. Cingular plates smooth. Hooks present on base of hypocone, where the posterior sulcal plate meets the 1st and 5th postcingular plates. Boundaries between plates may be wide and transversely striated. Possesses no chloroplast or eyespot. Nucleus large, (approximately 20 x 10 microns), oval and positioned centrally. Numerous colourless globules present, food particles observed.
Included On The Following Pages:
This image is not featured in any collections.
Source Information
author

Shauna Murray

provider
original

partner site

ID

27474279