Life cycle of Babesia microti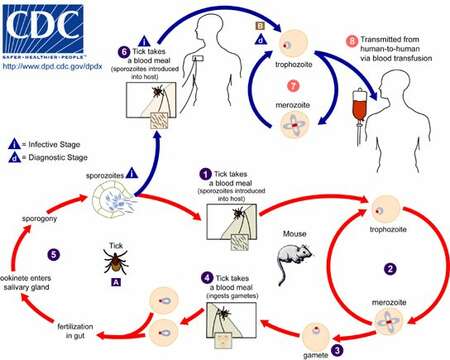 Description:
Life cycle of Babesia microti

The normal Babesia microti life cycle involves two hosts, a rodent (often the White-footed Mouse, Peromyscus leucopus) and a tick in the genus Ixodes. During a blood meal, a Babesia-infected tick introduces sporozoites (an active, infective developmental stage) into the mouse host (1). Sporozoites enter erythrocytes (red blood cells) and undergo asexual reproduction (budding) (2). In the blood, some parasites differentiate into male and female gametes, although these cannot be distinguished at the resolution of a light microscope (3). The definitive host (i.e., the host in which sexual reproduction occurs) is the tick. Once ingested by an appropriate tick (4), gametes unite and undergo a sporogonic cycle resulting in sporozoites (5), which can then be transmitted back to a rodent fed on by the tick. Transovarial transmission ("vertical" transmission across host generations) has been documented for "large" Babesia species but not for the "small" babesiae, such as B. microti.
Humans enter the cycle when infected ticks bite them in lieu of a rodent host . During a blood meal, a Babesia-infected tick introduces sporozoites into the human host (6). Sporozoites enter erythrocytes and undergo asexual replication (budding) (7), as in a rodent host. Multiplication of the blood stage parasites is responsible for the clinical manifestations of the disease. However, humans are, for all practical purposes, dead-end hosts and there is probably little, if any, subsequent transmission that occurs from ticks feeding on infected persons. However, human-to-human transmission can occur through blood transfusions (8).
From Centers for Disease Control Parasites and Health website.
Included On The Following Pages:
This image is not featured in any collections.
Source Information
license

copyright

Centers for Disease Control/Division of Parasitic Diseases and Malaria
publisher

Shapiro, Leo

photographer

Centers for Disease Control/Division of Parasitic Diseases and Malaria

provider
original

partner site

ID

17763886