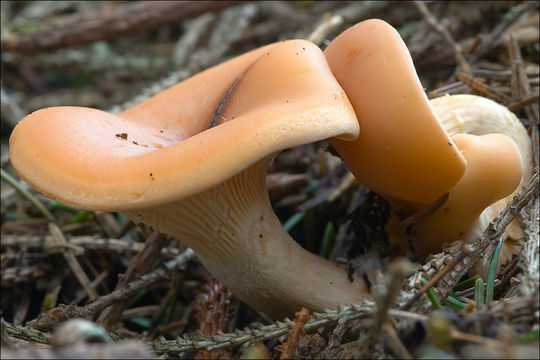 Description:
Paralepista flaccida (Sowerby) Vizzini, syn.: Clitocybe flaccida (Sowerby) P. Kumm., Clitocybe inversa (Scop.) Qul., Lepista flaccida (Sowerby) Pat., Clitocybe flaccida (Sowerby) P. Kumm., Clitocybe gilva (Fr.) Kumm., Lepista inversa (Scop.) Pat., Lepista gilva (Pers.) Pat., Paralepista gilva (Pers.) Raithelh., Omphalia flaccida (Sowerby) Qul., Omphalia inversa (Scop.) Qul.,Tawny Funnel Cap, DE: Fuchsiger Rteltrichterling Slo.: podvihana kolesnicaDat.: Oct. 23/24. 2011Lat.: 46.32964 Long.: 13.52551Code: Bot_564/2011_IMG7161, Bot_565/2011_DSC0437Habitat: Old, calcareous alluvial terrace, mixed wood, Picea abies, Fagus sylvatica, Ostrya carpinifolia dominant trees; under large Picea abies canopies (total shade, no ground vegetation, protected from direct rain) but also on grassy wood edge (half open, partly sunny place, exposed to direct rain); locally flat terrain; average precipitations ~ 3.000 mm/year, average temperature 8-10 deg C, elevation 415 m (1.360 feet), alpine phytogeographical region.Substratum: soil, rotten needles and other plant material.Place: Bovec basin, between station A of the Kanin cable car and Bovec golf playground, East Julian Alps, Posoje, Slovenia EC Comments: Paralepista flaccida is a common, very variable (look at the list of synonyms!) yet relatively easy to recognize fungus by its foxy-red-brown (when wet) to orange-ocher (when dry) color and by its fleshy, waxy appearance. It shares typical Lepista species habit but it is somewhat smaller than more frequent and better known Lepista nuda or Lepista nebularis. Gills are easy to separate from trama as in most Lepista species. The fungus was separate from Lepista genus and put into Paralepista genus only in the year 2012 based on DNA evidence. Before that various genus and species names had been used and long, long debates about its taxonomy took place. Growing in groups, many fruit bodies found; pileus diameter 2.8 - 6 cm; smell pleasant, partly mushroomy partly mealy; flesh watery, brittle; SP white with a slight orange-pink tint.Spores somewhat warty, subglobose. Dimensions: (4) 4.1 - 4.7 (5.1) x (3.2) 3.7 - 4.3 (4.5) microns; Q = 1 - 1.2 (1.3); N = 40; Me = 4.5 x 4 microns ; Qe = 1.1. Olympus Motic B2-211A, NEA 100x/1.25, magnification 1.000 x, oil; in water, fresh material;. AmScope MA500 digital camera.Ref.: (1) Personal communication with Mr. Bojan Ror, gobenabovskem.si(2) J. Breitenbach, F. Kraenzlin, Eds., Fungi of Switzerland, Vol.3. Verlag Mykologia (1991), p 212. (3) G.J. Krieglsteiner (Hrsg.), Die Grosspilze Baden-Wrttembergs, Band 3., Ulmer (2001), p 289. (4) M. Bon, Parey's Buch der Pilze, Kosmos (2005), p 142.
Included On The Following Pages:
This image is not featured in any collections.
Source Information
license

copyright

Amadej Trnkoczy
original

partner site

ID

38942814871