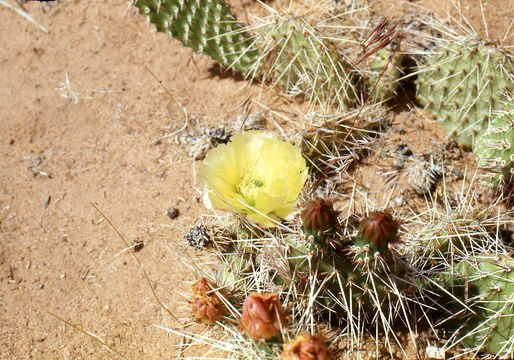 Description:
Opuntia nicholii (syn. O. polyacantha var. nicholii, and others). This is a severely misunderstood species which is not treated as occurring at this location by others, yet it is in certain habitats the dominant pricklypear of the region.O. nicholii, historically called "Navajo Bridge" pricklypear (which especially at this point is a confusing common name, and we can add new common names to species if we want to, unlike with their scientific names; a more apt name would be "Canyonlands pricklypear") is not the restricted endemic as it was originally thought. In all it is currently in known to occur in nine counties in Utah, not just one or two. And in the northern part of its range where it is less influenced by other Opuntias, it is not uncommon for it to have yellow (as well as pink) flowers. It is a hexaploid (a stable allohexaploid) and stands alone as a species; its treatment as merely a variety, based primarily on the work of Opuntia specialist A. Dean Stock, is not supported by its characteristics and genetics in relationship to to other pricklypears. While O. erinacea (which does not occur anywhere in southeastern Utah) may have been ancestrally one of its several parent plants based on speculation, it is not an "erinacea" and that name should not be used to describe any plants in Utah other than those that occur in the extreme southwestern portion of the state (which regrettably is completely contrary and inapposite to the outdated and unsupportable taxonomic Opuntia treatments by Dr. Stanley Welsh).Scanned from a slide. I apologize for not weeding out the cheatgrass before taking this shot. The 30-year old slide is still in excellent shape but still with many small specks of dust that accumulate that become burdensome to deal with, since despeckling (which would have saved a lot of time) leads to significant loss of image quality and clarity.May 21, 1984, Grand County, Arches National Park, Utah.Somehow we were still able to take pictures in the pre-digital world, as well as breath and walk and even occasionally think!
Included On The Following Pages:
This image is not featured in any collections.
Source Information
license

copyright

Tony Frates
original

partner site

ID

18064876769