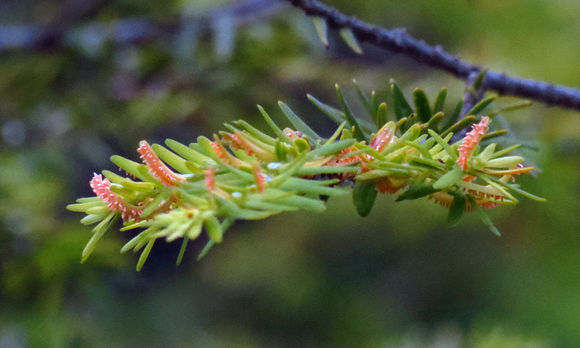 Description:
Mysterious orange "thingies" observed on hemlock trees on top of Flat Rock today - what are these? They seemed to occur in two neat rows on the bottom of yellowing needles that curved upwards. These hemlocks were heavily infested with the woolly adelgid, but I cannot find any hint at a connection of the adelgid with these orange needle-like extensions. Pretty much all the hemlocks I checked on top of Flat Rock had both the adelgids and these orange needle-like structures. I've seen plenty of adelgid-infested trees before, but never these things on any of them.Update: Looks like Hemlock Needle Rust (Pucciniastrum vaccinii). These trees are hit by a double-whammy of fungal infection and adelgid infestation. They looked rather sick from it, too. :-(The life cycle of this fungus apparently requires two hosts: The hemlock, on which these orange needles (called aecia) develop and release aeciospores; and blueberries (or related Vaccinium species), which these aeciospores can infect. Flat Rock has plenty of Vaccinium bushes, which explains why these were so common up there but I had never seen them before in other places. Later in the season, the fungus will develop telia on the blueberry leaves, making teliospores that then can infect the hemlock needles again, thus completing the life cycle.
Included On The Following Pages:
This image is not featured in any collections.
Source Information
license

copyright

BlueRidgeKitties
original

partner site

ID

7356492014