SpirochaeteSchemamobilityFL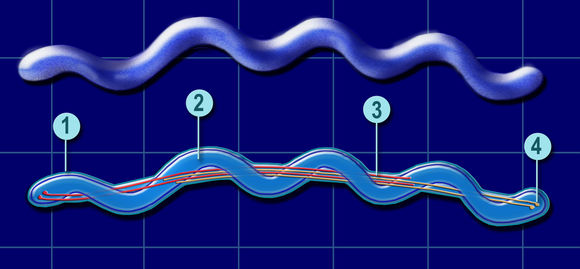 Description:
Summary[edit] DescriptionAPI English: Drawing of spirochaete's mobility system (with internal flagellae) Français : Schéma de principe du positionnement de flagelles internes d'un spirochète (ex : Borrelia). Le nombre de flagelles varie selon les espèces. les flagelles (en rouge et orange), internes, sont accrochées aux deux extrémités de la bactérie. Ils lui offrent une motricité inhabituelle et très performante, à condition d'être dans un milieu qui lui convient, c'est à dire ayant la consistance d'un gel (synovie, humeur vitreuse, etc). Ex : Borrelia burgdorferi se déplace à une vitesse moyenne de 1636 micromètres par minute (moyenne pour 28 bactéries observées), avec une vitesse maximale de 2800 µm/mn chez 3 des bactéries observées, soit la vitesse la plus rapide enregistrée pour un spirochète, et de deux ordres de grandeur au-dessus de la vitesse d'un polynucléaires neutrophiles humain réputé être la plus rapide de nos cellules mobiles. Légende : 1) enveloppe de la bactérie, 2cytoplasme) 3 Flagelle) 4 point d'attache d'un flagelle) Date 1 April 2008 Source Own work Author Lamiot fait à partir d'un dessin qui était sur le Wikipédia allemand : http://de.wikipedia.org/wiki/Datei:SpirochaeteSchema.jpg (Beschreibung: Schematische Darstellung einer Spirochaete
Quelle: selbst gezeichnet
Zeichner: Brudersohn
Lizenzstatus: GNU FDL) Licensing[edit] I, the copyright holder of this work, hereby publish it under the following licenses: Permission is granted to copy, distribute and/or modify this document under the terms of the GNU Free Documentation License, Version 1.2 or any later version published by the Free Software Foundation; with no Invariant Sections, no Front-Cover Texts, and no Back-Cover Texts. A copy of the license is included in the section entitled GNU Free Documentation License.http://www.gnu.org/copyleft/fdl.htmlGFDLGNU Free Documentation Licensetruetrue
This file is licensed under the Creative Commons Attribution-Share Alike 3.0 Unported, 2.5 Generic, 2.0 Generic and 1.0 Generic license. https://creativecommons.org/licenses/by-sa/3.0 CC BY-SA 3.0 Creative Commons Attribution-Share Alike 3.0 truetrue You may select the license of your choice.
Included On The Following Pages:
This image is not featured in any collections.
Source Information
original

partner site

ID

6394642