Genetic subdivision in the giraffe based on mitochondrial DNA sequences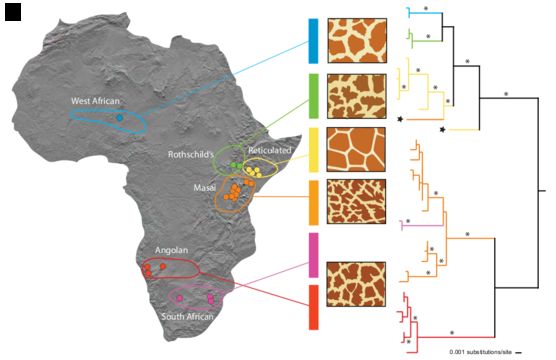 Description:
DescriptionAPI English: Figure legend in original article (CC-by): "Approximate geographic ranges, pelage patterns, and phylogenetic relationships between giraffe subspecies based on mtDNA sequences. Colored dots on the map represent sampling localities (see additional files 1 and 10 for detailed locality information).
The phylogenetic tree is a maximum-likelihood phylogram based on 1 707 base pairs of mtDNA sequence (1 143 nt of cytochrome b, 429 nt control region and 135 nt of tRNA) from 266 giraffes. Asterisks along branches correspond to node values of > 90% bootstrap support. Stars at branch tips identify paraphyletic haplotypes found in Masai and Reticulated giraffes." Español: Leyenda de la figura en el artículo original (CC-by): "Rangos geográficos aproximados, patrones del pelaje, y vínculos filogenéticos entre algunas subespecies de la jirafa a partir de secuencias de ADN mitocondrial. Los puntos coloridos en el mapa representan localidades de muestreo. El árbol filogenético es un filograma de máxima verosimilitud sobre la base de muestras de 266 jirafas. Los asteriscos a lo largo de las ramas corresponden a valores de nodos con un soporte bootstrap de más de 90%. Las estrellas en la punta de las ramas identifican haplotipos parafiléticos encontrados en las jirafas masái (G. c. tippelskirchi) y reticulada (G. c. reticulata)". Date Published 2007-12-21, prepared for and uploaded to Commons 2007-12-21. Source Brown, David; Rick Brenneman, Klaus-Peter Koepfli, John Pollinger, Borja Mila, Nicholas Georgiadis, Edward Louis, Gregory Grether, David Jacobs, Robert Wayne (2007). "Extensive population genetic structure in the giraffe". BMC Biology 5 (1): 57. DOI:10.1186/1741-7007-5-57. ISSN 1741-7007. Retrieved on 2007-12-21. Author See source for article authors. Prepared by and uploaded to Commons by User:OldakQuill Permission
(Reusing this file)
This file is licensed under the Creative Commons Attribution 2.0 Generic license. You are free: to share – to copy, distribute and transmit the work to remix – to adapt the work Under the following conditions: attribution – You must attribute the work in the manner specified by the author or licensor (but not in any way that suggests that they endorse you or your use of the work). http://creativecommons.org/licenses/by/2.0 CC BY 2.0 Creative Commons Attribution 2.0 truetrue Other versions Arabic
Included On The Following Pages:
Content Not In Any Collection Map Image
Source Information
license

copyright

See source for article authors. Prepared by and uploaded to Commons by User:OldakQuill
creator

See source for article authors. Prepared by and uploaded to Commons by User:OldakQuill

source

journal (BMC Biology).
original

partner site

ID

3259286