Medical diagnosis for the student and practitioner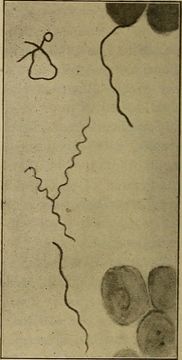 Description:

Identifier: medicaldiagnosi00gree (find matches)
Title: Medical diagnosis for the student and practitioner
Year: 1922 (1920s)
Authors: Greene, Charles Lyman, 1862-
Subjects: Diagnosis
Publisher: Philadelphia, Blakiston
Contributing Library: The Library of Congress
Digitizing Sponsor: The Library of Congress

View Book Page: Book Viewer
About This Book: Catalog Entry
View All Images: All Images From Book
Click here to view book online to see this illustration in context in a browseable online version of this book.

Text Appearing Before Image:
tal sore not infrequent in physicians,dentists, laundresses, rag pickers, etc. It follows also that syphilis maybe innocently acquired with or without sexual congress. Husbands infectinnocent wives and less often a guilty wife transfers the disease of herlover to an unsuspecting husband. The innocent girl carrying an oralchancre for which the mucous patches of her fiance are responsibleis no rare client and may infect other family members. The individualsyphilitic is a menace to all about him during the active stages, as the secretionsof his lesions, his blood and his lymph, are alike virulent. Fortunately breastmilk, saliva, and usually the semen are not infectious unless contaminatedthrough local sources. The tertiary lesions are seldom sources of infectionunless relatively early or co-existent with late secondary lesions. High * The treponema of syphilis was first called Spirocheta pallida, but it was foundthat this name had previously been applied to another organism by Ehrenberg.
Text Appearing After Image:
Fig. 528.—Treponema Pal-lidum (in center) and theSpirocheta refringens. SYPHILIS 1107 degrees of heat or cold seem to destroy the virulence of the secretion, other-wise active even in a state of desiccation. Modifying Influences.—As to its later course no correct inferences canbe drawn from the primary symptoms or the site of the lesion, though thegeneral rule governing all infections which leads us to expect the severer manifes-tations in persons of bad habits, poor physique or a vitality impaired by ante-cedent or co-existent chronic disease holds good in this one. The ravages ofacquired syphilis in children are exceptionally violent and widespread. The Three Stages.—The primary stage of syphilis comprises the timeelapsing between the recognition of a local lesion at the site of infection and theappearance of the constitutional symptoms and eruption of the secondary period.It is represented by the development of the chancre and coincident swelling of theadjacent lymph glands (

Note About Images
Please note that these images are extracted from scanned page images that may have been digitally enhanced for readability - coloration and appearance of these illustrations may not perfectly resemble the original work.
Included On The Following Pages:
This image is not featured in any collections.
Source Information
creator

Internet Archive Book Images
original

partner site

ID

43325557