Podocarpus macrophyllus Plant 2000px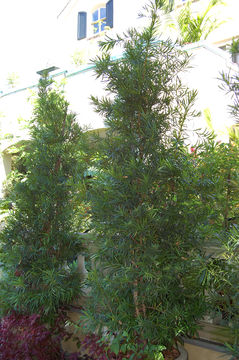 Description:
Camera location 40° 01′ 50.3″ N, 75° 23′ 34.36″ W View all coordinates using: OpenStreetMap - Google Earth 40.030638; -75.392877 DescriptionAPI A picture of the Podocarpus macrophyllus en plant. Photo taken at the Chanticleer Garden where it was identified.
Camera and Exposure Details:
Camera: Nikon D50
Lens: Nikon Nikkor ED AF-S DX 18-55mm f/3.5-5.6G
Exposure: 28mm (42mm in 35mm equivalent) f/5.6 @ 1/60 s.
Date 17 September 2006 Source Self-photographed Author Photo by and (c)2006 Derek Ramsey (Ram-Man). Location credit to the Chanticleer Garden. Permission
(Reusing this file) You may NOT use this image on your own web site or anywhere else unless you release this image and any derivative works (e.g. your web site) by following the terms of the following license. Any other use will be considered a breach of copyright and I reserve the right of legal action. If you have not read the terms of the license or do not understand it, then do not use this image. Special permission to use this image in any other fashion would require special written permission from myself and Chanticleer Garden. Please contact me for more information. Permission to use this image is dependent on giving location credit to Chanticleer Garden. Permission is granted to copy, distribute and/or modify this document under the terms of the GNU Free Documentation License, Version 1.2 or any later version published by the Free Software Foundation; with no Invariant Sections, no Front-Cover Texts, and no Back-Cover Texts. A copy of the license is included in the section entitled GNU Free Documentation License.http://www.gnu.org/copyleft/fdl.htmlGFDLGNU Free Documentation Licensetruetrue
This file is licensed under the Creative Commons Attribution-Share Alike 3.0 Unported license. This licensing tag was added to this file as part of the GFDL licensing update.http://creativecommons.org/licenses/by-sa/3.0/CC-BY-SA-3.0Creative Commons Attribution-Share Alike 3.0truetrue
Included On The Following Pages:
This image is not featured in any collections.
Source Information
original

partner site

ID

1183657