Bourbon virus sphere crop (EID 2015 Fig 2b)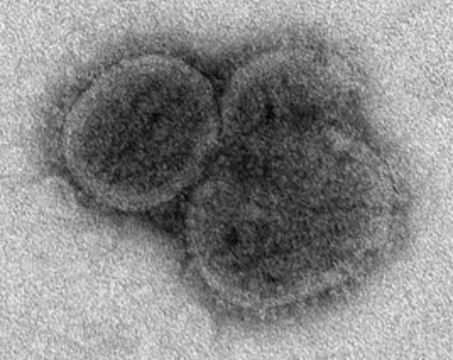 Description:
Summary[edit] DescriptionAPI English: Electron microscopic images of novel Thogotovirus isolate, Bourbon virus. Spherical virus particle with distinct surface projection are visible in culture supernatant that was fixed in 2.5% paraformaldehyde. Cropped from Figure 2b from Kosoy OI, Lambert AJ, Hawkinson DJ, et al. (2015) Novel Thogotovirus species associated with febrile illness and death, United States, 2014. Emerging Infectious Diseases doi:10.3201/eid2105.150150 Date 2015 Source http://wwwnc.cdc.gov/eid/article/21/5/15-0150-f2 Author Olga I. Kosoy, Amy J. Lambert, Dana J. Hawkinson, Daniel M. Pastula, Cynthia S. Goldsmith, D. Charles Hunt, and J. Erin Staples
Included On The Following Pages:
This image is not featured in any collections.
Source Information
creator

Olga I. Kosoy, Amy J. Lambert, Dana J. Hawkinson, Daniel M. Pastula, Cynthia S. Goldsmith, D. Charles Hunt, and J. Erin Staples

source

http://wwwnc.cdc.gov/eid/article/21/5/15-0150-f2
original

partner site

ID

38758043