Bourbon virus endocytosis (EID 2015 Fig 2d)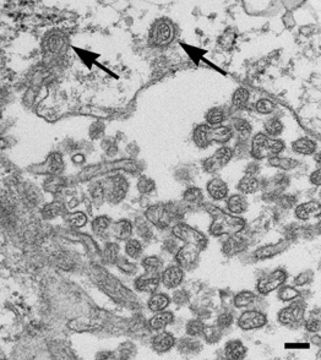 Description:
Summary[edit] DescriptionAPI English: Electron microscopic image of novel Thogotovirus isolate, Bourbon virus. Thin-section specimen fixed in 2.5% glutaraldehyde shows numerous extracellular virions with slices through strands of viral nucleocapsids. Arrows indicate virus particles that have been endocytosed. Scale bar indicates 100 nm. Cropped from Figure 2d from Kosoy OI, Lambert AJ, Hawkinson DJ, et al. (2015) Novel Thogotovirus species associated with febrile illness and death, United States, 2014. Emerging Infectious Diseases doi:10.3201/eid2105.150150 Date 2015 Source http://wwwnc.cdc.gov/eid/article/21/5/15-0150-f2 Author Olga I. Kosoy, Amy J. Lambert, Dana J. Hawkinson, Daniel M. Pastula, Cynthia S. Goldsmith, D. Charles Hunt, and J. Erin Staples
Included On The Following Pages:
This image is not featured in any collections.
Source Information
creator

Olga I. Kosoy, Amy J. Lambert, Dana J. Hawkinson, Daniel M. Pastula, Cynthia S. Goldsmith, D. Charles Hunt, and J. Erin Staples

source

http://wwwnc.cdc.gov/eid/article/21/5/15-0150-f2
original

partner site

ID

38779564