The birds of Africa, comprising all the species which occur in the Ethiopian region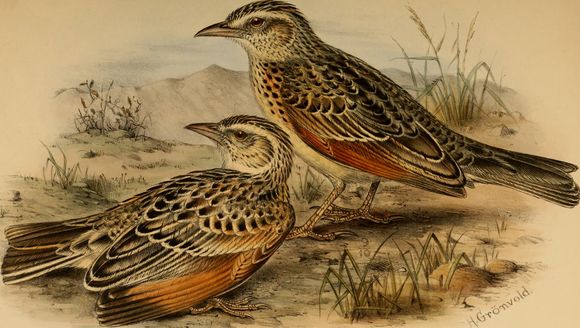 Description:

Identifier: birdsofafricacom03shel (find matches)
Title: The birds of Africa, comprising all the species which occur in the Ethiopian region
Year: 1896 (1890s)
Authors: Shelley, G. E. (George Ernest), 1840-1910 Sclater, W. L. (William Lutley), 1863-1944 Grönvold, Henrik, 1858-1940
Subjects: Birds Birds
Publisher: London, Published for the author by R.H. Porter (18 Princes Street, Cavendish Square, W.)
Contributing Library: Smithsonian Libraries
Digitizing Sponsor: Smithsonian Libraries

View Book Page: Book Viewer
About This Book: Catalog Entry
View All Images: All Images From Book
Click here to view book online to see this illustration in context in a browseable online version of this book.

Text Appearing Before Image:
of the inner secondaries and the two outerprimaries ; wing-lining with the under coverts of the same shade ofcinnamon as the pale portion of the quills. Eyebrow, sides of head, andsides of upper neck buffy white, mottled with brown and black ; chinand upper throat white ; remainder of the under parts buff; crop slightlymottled with rufous and the flanks washed with dusky ash ; lower throatand crop with angular blackish shaft-spots, most numerous on the sides,where they form the usual fairly distinct black patch between the cropand the side of the neck ; a few indistinct shaft-stripes on the flanks andsome more sharply defined ones on the under tail-coverts. Iris hazel; billabove dark horny-brown, paler below ; legs pale. Total length 8-5 inches,cuhnen 0-7, wing 4-3, tail 35, tarsus 1-25. J , 21. 1. 99. Gadaburka (Lovat,Mus. Brit.). A specimen labelled
Included On The Following Pages:
This image is not featured in any collections.
Source Information
creator

Internet Archive Book Images
original

partner site

ID

43883849