Image of Potentilla carniolica A. Kerner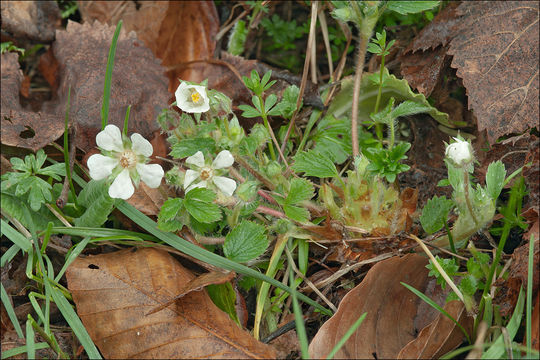 Description:
Slo.: kranjski petoprstnik - syn.: Potentilla micrantha Ramon ssp. carniolica (Kern) Gams - Habitat: grassland, former pasture, mowed once per year, flat terrain, shallow, calcareous ground, half shade, exposed to direct rain, average precipitations ~ 3.000 mm/year, average temperature 7 - 9 deg C, elevation 600 m (2.000 feet), alpine phytogeographical region. Substratum: soil.Comment: Potentilla carniolica is, contrary to its species name (carniolica - Carniola is a historical name of a part of present Slovenia territory), actually a plant growing mainly in Dinaric mountains of Balkan Peninsula. It was initially found at the northern edge of its distribution area and hence inadequately named. It enters the Alps only on its extreme northern part of distribution area and exclusively on the territory of Slovenia. In Slovenian alpine phytogeographical region only a few stands in quite distant Kamnik Alps are known up to now. This find is the first known occurrence in the Julian Alps and at the same time the most northwestern of the known distribution area. It is also quite far from all other known stands in Slovenia and bordering regions of Italy.These plants were first observed and photographed a year ago (2015). A few of them (may be 5 - 6) grow on two spots only a few meters away. This year broader region around the find has been inspected during the blooming time with the aim to find more plants. If it were more growing on a larger area, this occurrence would probably be spontaneous. But there was no success, which of cause doesn't prove it is sub-spontaneous. The question whether this is a spontaneous occurrence or not remains unanswered although no reasonably probable way of their anthropogenic introduction can be imagined (Ref.:6). Picture 22b shows minute differences in leaves of very similar and common wild strawberry (Fragaria vesca). Ref.:(1) A. Martini et all., Mala Flora Slovenije (Flora of Slovenia - Key) (in Slovenian), Tehnina Zaloba Slovenije (2007) (in Slovene), p 256. (2) D. Aeschimann, K. Lauber, D.M. Moser, J.P. Theurillat, Flora Alpina, Vol. 2., Haupt (2004), p 782.(3) R. Domac, Flora Hrvatske (Flora of Croatia) (in Croatian), kolska Knjiga, Zagreb (1994), p 172.(4) N. Jogan (ed.), Gradivo za Atlas flore Slovenije (Materials for the Atlas of Flora of Slovenia), CKSF (2001), p 297.(5) A. Trnkoczy, I. Dakskobler, Potentilla carniolica A. Kerner, Prvo znano nahajalie v Julijskih Alpah, najbolj zahodno v celotnem arealu vrste (The first occurence in the Julian Alps and the most west of the known distribution are) (In Slovenian), Hladnikia, Botanical Society of Slovenia (2015), Vol 36. p 56.
Included On The Following Pages:
This image is not featured in any collections.
Source Information
license

copyright

2016 Dr. Amadej Trnkoczy
original

partner site

ID

CalPhotos:0000 0000 0616 1930